Founder
Shihan (Senthil Thiyagarajan)
Shihan Sen started karate in early 1980 in South India. He trained under Sensei Kalaimani and practicing karate for around 40 years. He is currently a 7th Degree (NANADAN) Black Belt in Shito-Ryu Karate-Do, USA Karate and WKF (World Karate Federation). He is the founder and chief instructor of Champion Karate Academy. He currently holds WKF KATA Judge A, WKF Kumite Referee A, USA-NKF National Referee in Kumite and Kata. He is the President and Referee Council member of Texas Sport Karate Federation and also a Technical Committee member of Shuko-Kai International. He is the head coach of CKA's elite competition team.
In 2005, he founded Champion Karate Academy and started teaching Karate in Irving soon after winning his first USA Nationals medal in Charlotte, NC. In 2007, he met and joined Sensei Kunio Miyake, president of Shuko-Kai International. Very soon he was accepted and appointed as a Technical Committee member of Shuko-Kai International by Sensei Kunio Miyake.
He had participated over 500 karate tournaments including nationals and various internationals and won so many titles. He won the India National Champion title for 10 years consecutively and a National record holder of winning 3 Gold and 2 Silver Medals in a national championship held at Bhopal, India in 2000.
He won a Gold Medal in Men Advanced Team Kata senior division in USA National Championship 2012, Florida, a Gold Medal in Master's Kata division in USA Open 2009, Silver medal in 2010 USA Open, an international karate championship held at Las Vegas, USA. He won more champion titles in Texas State and local championships.
He participated as an athlete in Various International Karate Championships which includes 19th World Karate-do Federation championship 2008 held in Japan, 6th World Cup 1997, Manila, Common Wealth Karate Championships 2008 in Scotland, Asian Karate Championships in Manila and Singapore. He won 2 silver medals in South Asian Federation Games, Nepal 1999.
He has traveled to Japan, France, Germany, Serbia, Scotland, London, Singapore, Hongkong, Malayasia, Nepal, Manila, across USA and India as an athlete, coach and Referee.
In 2004, he came to USA to work as a software engineer. He is currently working as a Product Specialist at JDA Software Group.
In 2006, he along with his family has been invited to Raj Bhavan by Dr. Abdul Kalam, ex-President and great Scientist of India as a token of honor for his martial arts achievements.
He has been nominated for "Arjuna Award" for 3 times in the sport of Karate. This award is the highest and prestigious award in India presented to the sports person by Indian Government.
He has a Bachelor Degree in Computer Science and Engineering from Chennai University, India. He played for his high school, college Cricket and Kabbadi sports team.
His passion and dedication towards karate-do, vast martial arts knowledge, experience, tournament achievements and special training skills helps him to produce more champions not only in karate competition but also in life.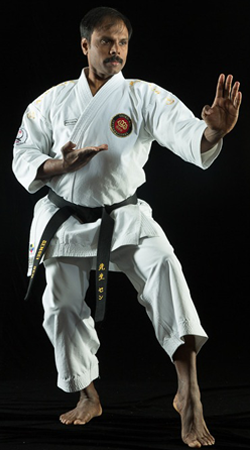 Achievements